October 16, 2023 Gina Thorsen, CEO, Jacquart Fabric Products, home of Stormy Kromer

Date - October 16, 2023, 5:30 pm
Topic -
Sponsor - NMU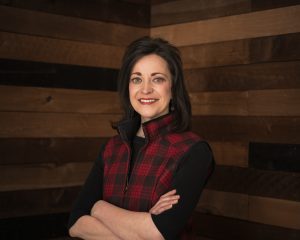 Ms. Thorsen is CEO of Stormy Kromer, a division of Jacquart Fabric Products. She leads the marketing, sales, and new product development efforts for the iconic, USA-made outdoor apparel brand. As part of the third generation of Jacquart family members to oversee the business, she plays a key role in developing the company's strategic vision for the future.
Ms. Thorsen is responsible for the development and oversight of Stormy Kromer's branding and annual marketing plan and manages the internal and external teams that implement these activities. Under her leadership, the brand has experienced continuous growth, with sales increases of more than 20% in each of the past two years. This was accomplished, in part by boosting Stormy Kromer's online presence through digital marketing and a revitalized website.
Ms. Thorsen also oversees new product development and design. She has refreshed the brand to appeal to women and younger customers while maintaining her core buyers. During her tenure, she has successfully expanded a small, century-old line of caps for working men into a complete apparel and accessory collection for the whole family, increasing the product offerings five-fold. She hired the company's first apparel designer, launched Stormy Kromer's first pet products collection, and led successful collaborations with national brands such as Carhartt, Wolverine and Merrell.
Before rejoining her family's business in Michigan's Upper Peninsula, Ms. Thorsen spent 11 years in Dallas, Texas with Big Thought, one of the nation's premier youth development nonprofits. As Vice President of Research & Program Development, she managed the nationally recognized program, Dallas ArtsPartners, and led the development of new programs such as Thriving Minds. She helped secure significant national funding and shared Big Thought's programs and strategies with communities across the nation through speaking engagements and consultancies.
Ms. Thorsen holds a Master's Degree in Arts Administration from Goucher College in Baltimore, MD and a Bachelor's Degree in Arts Management with a minor in music/voice from the University of Wisconsin-Stevens Point. She serves on the board of directors of the Small Business Association of Michigan and the Emberlight Festival, and is a member of the Ironwood Economic Development Corporation.